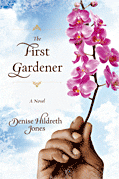 OK, all of you out there in blog land. I just finished reading and reviewing this book, and instead of putting it out there on one of the book swapping sites or throwing it in a closet to collect dust, I feel that I need to give it away to one lucky reader out there. You can read my book review on my book review blog
www.melsdaisypatch.blogspot.com
. The contest will end on Friday, December 9, 2011. That way you can have it by Christmas in case you want to give it as a gift. I might even throw in a couple extra surprises along with the book who knows, tis the season for giving. For more info on this book and others by Denise please visit her website at
http://www.denisehildrethjones.com/
.
In order to win this book you must
1. Be a follower of this blog or my book review blog
www.melsdaisypatch.blogspot.com
.
2. Leave me a comment about why you would like to have this book.
3. Leave me your email address so that I can contact you for your address if you win.
4. Blog about this contest on your blog and let me know so I can have a look see.
Good luck to all and thanks for stopping by.