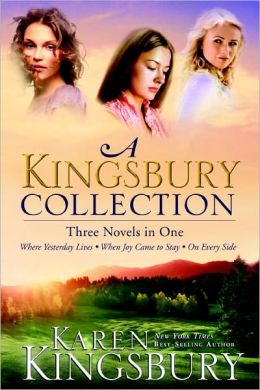 I received a copy of this book from the WaterBrook Multnomah Publishing group, through their Blogging For Books Program, in exchange for an honest review.
This huge, 748 page book contains three of Karen Kingsbury's novels all in one book. It includes Where Yesterday Lives, When Joy Came To Stay, and On Every Side.
From the back of the book:
Ellen Barrett is a Pulitzer Prize-winning journalist with an uncertain marriage, a forgotten faith, and haunting memories of her picturesque hometown and the love she left behind. The eldest of five siblings, she longs for the time, long ago, when they were a happy family. Now Ellens beloved father is dead, and she returns to her childhood home to make peace-with the people who still live there, with the losses and the changes that time has wrought, and with the future God has set before her.
Maggie Stovall is one of the golden people. She has it all together...at least on the surface. Ben Stovall is godly husband and successful attorney. He has no idea of the darkness about to overtake his life. Amanda Joy is a child of society-abused, broken, thrown away. But her trust in God is still alive. When Joy Came to Stay is the heart-wrenching story of one woman's descent into the shadows of depression, her husband's search for understanding, and a precious child's unwavering faith.
Faith Evans is an up-and-coming newscaster, a woman of honor and integrity who must take a stand against the one man she never imagined would be her enemy. A beloved, hundred-year-old-statue of Jesus stands in a small-town park--but some say it's a clear violation of separation of church and state that must come down. Jordan Riley is a powerful attorney fighting for human rights and against God, but still reckoning with bitter boyhood losses. Amid political intrigue, social injustice, and personal conflicts, will love be enough when the battle rages on every side?
These were the first Karen Kingsbury books that I had ever read. I really liked all of them. They each had characters that I could relate to. When Joy Came to Stay was my favorite though. Maggie has a secret that she has been hiding for years. Not even her parents realize she has kept this secret for so long. And poor, sweet Amanda Joy has had a rough life. She was given up at birth by her birth mother and adopted by a nice, but not very loving couple. Then a few years later they died in an accident and she was placed in foster care. She has been shuffled from foster home to foster home being abused along the way. When Maggie can no longer hide her secret her world crumbles around her as she sinks into a pit of depression. This book has a wonderful ending that I will not spoil for you. All of the stories had me laughing and crying right along with the characters. Each book is loaded with characters you will love and feel like you are a part of their family. I can't wait to read more of Karen's books.
If you would like to read a
FREE
short story by Karen Kingsbury, you can download it for you book reader from
HERE
. If you have read these, or any of Karen's other books, I would love for you to leave me a comment and let me know which ones you have read and what you liked most about them. If you would like to become a book reviewer please visit the
Blogging for Books website
for more information. I hope you are having a wonderful week and I will talk to you soon. Don't forget to link up for this weeks
Monday Funday
or this months
Bloglovin' Blog Hop
while you are here.