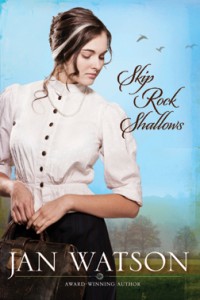 Skip Rock Shallows by Jan Watson
Lilly Gray Corbett has just graduated from medical school and decided to accept an internship in the coal camp of Skip Rock, Kentucky. Her beau, Paul, is doing his residency in Boston and can't understand why Lilly would choose to work in a backwater town. But having grown up in the mountains, Lilly is drawn to the stubborn, superstitious people she encounter in Skip Rock-a town where people live hard and die harder and where women know their place. Lilly soon learns she has a lot to overcome, but after saving the life of a young miner, she begins to earn the residents' trust.
As Lilly becomes torn between joining Paul in Boston and her love for the people of Skip Rock, she crosses paths with a handsome miner - one who seems oddly familiar. Her attraction for him grows even as she wrestles with her feelings and wonders what he is hiding.
***************************************************
This is the first book by Jan Watson that I have read. I was really drawn into the story. This book switches back and forth from the view of Lilly, to the view of Tern Still (a.k.a. Jo), a young man on a secret assignment. Unknown to Lilly he has a past that involves her. Tern is much older since Lilly last saw him and has changed his name. Because of this, Lilly is left with an unsettling feeling when she sees him and is plagued with thoughts from her past. Tern has loved Lilly most of his life and has secrets.
I really enjoyed this book, its characters and the story line. It must have been hard for Lilly to be a woman doctor in a mining camp during that time.
For more information about Jan Watson and her other books, please visit her
WEBSITE
.