This Monday Funday is all about that little round fellow that all the kids and kids at heart believe brings goodies on Christmas Eve. And of course he couldn't get here without the help of his reindeer.
Don't forget to enter to win my Ubooly Giveaway while you are here.
Reindeer Bauble
Reindeer Pillow
Santa's Wardrobe
Mini Santa and Reindeer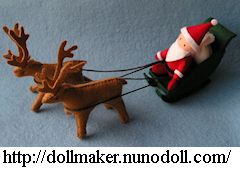 Dear Mr. Claus Quilt Pattern
(Oh and there are tons more where this one came from!!!)
He's Coming To Town Sampler
The Wish Quilt
(scroll down, there are many wonderful patterns on this page)
Cross Stitch Santa Snow Globe
Candy Cane Reindeer Craft
I hope you enjoy all of these Santa and Reindeer goodies. Please feel free to link up what you are doing below.