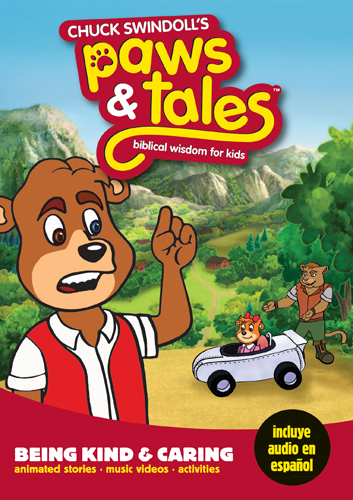 Using colorful animation, fun characters, and great lessons, Paws & Tales is an exciting tool for helping build godly character into kids. Based on the
Paws & Tales
nationally broadcast radio program presented by Chuck Swindoll's
Insight for Living
, the Paws & Tales videos communicate biblical truth and show kids how they can apply it to real life. Kids will be captivated by the adventure, caught up in the laughter, and carried away in the fun . . . and the whole time they'll be on their way to understanding solid Bible theology. This eighth DVD in the series is based on Ephesians 4:32 and Philippians 2:3-4 and includes two episodes that teach kids about being kind and caring. In episode #1, "The Hullabaloo at Hunker Hill," C. J. and his friends learn a lesson in forgiveness and being tenderhearted toward one another. In "The Great Go-Kart Race," the team discovers how to work together.
My kids loved this movie!! If your kids like to watch Franklin or Little Bear they will love this series too. Even my 12 year old was loving it. The little animals are cute and they are going through the same things are kids are. From dealing with bullies to having trouble getting along with their best friends. The "kids" are also learning about forgiveness and God's love. There are cute music videos with and without singalong as well as fun activities. Just pop the DVD into you computer and go to the DVD drive and click on the PDF files. There are two activity pages for the kids as well as Parent Tips sheet to help you discuss the movie with your kids or your Sunday School class. You can visit the Tyndale House website for more information about this DVD or others in this series. I would recc
omend this DVD for children and families of all ages.
I received this complimentary copy of this DVD from Tyndale House Publishing for reviewing purposes. All views in this review are my own and I was not compensated for a positive review.